Heat Shrinkable Straight Through Joints XLPE cable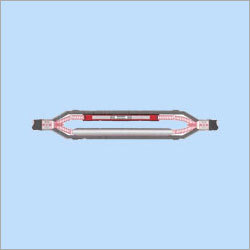 Heat Shrinkable Straight Through Joints XLPE cable
Price And Quantity
Number

1250.00 - 12500.00 INR
Product Description
Started in the year 2011, we are emerged as the trusted names in the cable accessories manufacturing industry, offering a reliable range of Heat Shrinkable Straight Through Joints. The offered range of joints is manufactured by our professionals in accordance with the international quality standards & norms. Available with us in variety of grades and standards, our Heat Shrinkable Straight Through Joints are specially used in electrical and industrial cable networks.

Features
Easy installation
Shock resistance
User friendliness
Heat Shrinkable Straight Through Joints


Used for low to medium voltage requirements, this product has gained a wide and loyal clientele worldwide, which is an acknowledgment, for our international quality norms. Our products in this category are renowned for the stringent quality processes we employ in our state of the art manufacturing facility. Used in a wide spectrum of industries, this product has the following properties.


Specification


Electrical Performance

Test Requirement

12KV
(6.6/6.6KV, 6.36/11KV)

15-24KV
(8.7/15KV, 11/11KV, 12.7/22KV)

36KV
(19/33KV)

A.C. Withstand, 1 Minute

35 KV

50KV

75KV

D.C. Withstand, 15 Minute

48KV

96KV

144KV

Discharge Extintion Voltage (<5Pc)

12.7 KV(Min)

25.4KV(Min)

38KV(Min)

Impulse Withstand (Crest KV)

75KV(Min)

125KV

170KV(Min)

Continuous Current Rating

As Per Cable

As Per Cable

As Per Cable
Ordering Information

12 KV

15-24 KV

36 KV

Cable Size (Sq mm)

Kit Code

Cable Size (Sq mm)

Kit Code

Cable Size (Sq mm)

Kit Code

16-50

YXS-11

25-50

YXS-21

35-70

YXS-31

70-95

YXS-12

70-95

YXS-22

95-150

YXS-32

120-185

YXS-13

120-150

YXS-23

185-300

YXS-33

240-400

YXS-14

185-240

YXS-24

400

YXS-34

400-500

YXS-15

300-400

YXS-25