22kv Heat Shrinkable Outdoor Termination PILC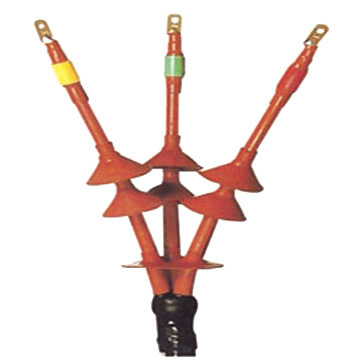 22kv Heat Shrinkable Outdoor Termination PILC
Product Description
With the thorough knowledge of the varied aspects of the industry, we are able to manufacture and export a commendable assortment of Heat Shrinkable Termination PILC. Developed in accordance with the global quality standards, the cables are extensively applicable in medium voltage requirements. Offered in varied sizes & specifications, the Heat Shrinkable Termination PILC is highly acknowledged for its easy fitting and excellent performance.

Features


Provide brilliant protection against moisture ungress
Excellent insulating
Light weight construction


Heat Shrinkable Indoor, outdoor Termination FOR 3 Core PILC Mind

Our stringent qualitative parameters have ensured that our clientele using this product are eminently satisfied, and extremely happy with the product performance. Ensuring constant client satisfaction, our products are acclaimed worldwide for the extensive quality checks and timely delivery. Used for medium voltage requirements, these set of products have achieved market leader status.
Heat Shrinkable Termination Suitable for 3 Core Paper Insulated Lead Covered MIND Cable for 24 KV

Test

Requirement

Typical Value

A.C. Dry Withstand Voltage

50 KV/1 Minute

Pass

D.C. Voltage Withstand Test

96 KV/15 Minute

Pass

Lightening Impulse withstand Voltage

125 KV

> 125 KV
Ordering Information

Cable Size (Sq mm)

Outdoor Kit Code

Indoor Kit Code

25-50

YPO-21

YPE-21

70-120

YPO-22

YPE-22

150-240

YPO-23

YPE-23

300-500

YPO-24

YPE-24

We are an eminent manufacturer of 22KV Heat Shrinkable Outdoor Terminations Kits, exporter 22KV Heat Shrinkable Outdoor Terminations Kits, 22KV Heat Shrinkable Outdoor Terminations Kits supplier of a wide spectrum of heat shrinkable terminations kits. The wide assortment of heat shrinkable termination kit which we are providing comprises of heat shrinkable termination kit, heat shrinkable joints, heat shrinkable power cable accessories, and heat shrinkable busbar insulation tapes. These products are made in compliance with the industrial standards.

Features:


Stress control
Very high insulating property
Market leading prices
22KV 3 x 50- 95mm Heat Shrinkable Outdoor Termination Kit Supplier
22KV 3 x 120 - 185mm Heat Shrinkable Outdoor Termination Kit Supplier
22KV 3x 240 - 300mm Heat Shrinkable Outdoor Termination Kit Supplier
22KV 3 x 400-500mm Heat Shrinkable Outdoor Termination Kit Supplier
22KV 3 x 70- 95mm Heat Shrinkable Outdoor Termination Kit Exporter
22KV 3 x 120 - 185mm Heat Shrinkable Outdoor Termination Kit Exporter
22KV 3x 240 - 300mm Heat Shrinkable Outdoor Termination Kit Exporter
22KV 3x 400- 500mm Heat Shrinkable Outdoor Termination Kit Exporter
22KV 3 x 25 - 50mm Heat Shrinkable Outdoor Termination Kit Manufacturer
22KV 3 x 70- 95mm Heat Shrinkable Outdoor Termination Kit Manufacturer
22KV 3 x 120 - 185mm Heat Shrinkable Outdoor Termination Kit Manufacturer
22KV 3x 240 - 300mm Heat Shrinkable Outdoor Termination Kit Manufacturer
22KV 3 x 400-500mm Heat Shrinkable Outdoor Termination Kit Manufacturer